Isabelle Geeroms (45) of Belgium is the winner of the 2009 HRD Awards diamond jewelry design contest organized by Antwerp World Diamond Centre (AWDC). The theme of this year's contest was "Once upon a time …my favorite fairy tale."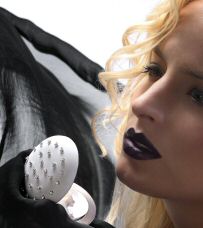 The HRD award winning design
by Isabelle Geeroms, 'Mirror,
mirror on my hand'

Geeroms' entry, "Mirror Mirror on my hand" is a ring made of white gold and ceramics. Her inspiration comes from the fairy tale 'Snow white and the seven dwarfs.' She spread diamonds in the mirror, symbolizing the yearning for passion and tenderness.
The 114 diamonds used in the winning design have a total weight of 10.28 carats, and were provided by Luc Vets Diamant. The jewel itself is sponsored by Gemsset.
Five finalists were selected as well - Thitiwan Thubtimthong (28) from Thailand; Cari-Mari Wilsenach (32), South Africa; South Korean Guerina Yoo (38); and 35 year old Lithuanian Viktoras Sitalo.
The five finalist designers, in the opinion of the jurors, presented pieces that demonstrated the artist's excellence, and scored high in terms of innovation, enthusiasm and craftsmanship.
The HRD Awards contest is considered a premiere diamond jewelry design competition, with a focus on extravagance and avant-garde. The contest was launched in Belgium 1984 as the "Antwerp Diamond High Council Awards" with the aim of promoting creativity and design excellence in diamond jewelry. In 2003, it became an international contest.
"In the jewelry business, all roads lead to Antwerp, and this clearly was demonstrated by many cutting-edge designs that flowed into our offices over the past year," said Freddy J. Hanard, CEO of the AWDC, adding that the collection will go on a global tour at the beginning of September.
via - idexonline