Fine Art jewelry created with the highest quality gems and precious metals in the world. Unique custom designs with viewings available by appointment. Founded by a scion of a family of jewelers dating back to the 11th century and a world class designer with a background in fashion, art, and history. Timeless, handcrafted pieces to treasure forever.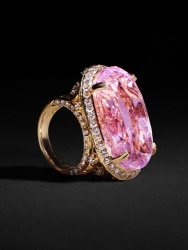 New York, NY, July 02, 2012 --(PR.com)-- The jewelry brand ADAMS&ARIDO created by designers Arid Chappell, Jesse Raphael and Sam Salama is taking the world by storm.

ARIDO first launched his collection at the Ritz Carlton in Tokyo Japan in December 2010. His next event was followed-up by New York Fashion week at the Four Seasons Hotel, The Oscars in Beverly Hills, California.

Most recently ADAMS&ARIDO:
Showed at the prestigious World Music Festival .

...and had a Global International Launch in China, touring the cities of Shanghai, Dalian, Chengdu, Hangzhou, Wenchuan, and Neijian.

http://v.ifeng.com/fashion/people/201109/9f08f575-bca4-4247-a2f3-cff1e8e9b957.shtml

As a successful fashion designer and international stylist, Arid Chappell has been turning heads for the past 25 years, gracing the red carpets of such prestigious premieres as The Emmys, The Grammys, The Oscars, The Golden Globes, The Independent Spirit Awards, The NAACP Image Awards, and more. Arid has dressed the top Hollywood A list stars such as, Paris Hilton, Desperate Housewife Stars, Terri Hatcher and Vanessa Williams, original Broadway Dream Girl Star Loretta Devine, Halle Berry, Toni Braxton, Nicole Richie, Jennifer Love Hewitt, Lindsey Lohan and a host of others Hollywood stars.

ARIDO Jewelry has been featured in Vogue China, NEEU China, MSN Luxury, Modern Luxury Hawaii/Japan, Four Season Magazine, Lid Magazine.

Arid Chappell has taken his talents to the next top level by teaming up with scion jeweler Jesse Raphael and Sam Salama to bring their clients the latest trend setting designs in high fashion jewelry and mystique.

ARIDO gives special thanks to collaborating partner Sam Salama of Adams Jewelry for creating ADAMS&ARIDO look for new and exciting design coming from this collaboration.

Look for ADAMS & ARIDO Jewelry store to open soon in New York City on Madison Ave.